Electric Bullet by ASD vs Excess (2010)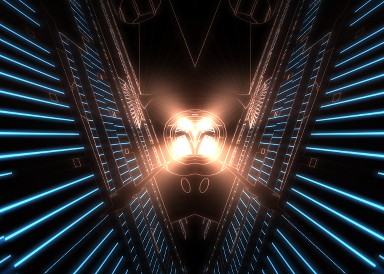 This energetic work is based on the concept of forward-moving camera. It can be conceptually divided into two parts: kaleidoscopic segment and surreal interior segment. The same effects are applied through both and include object group edge detection, light scattering approximation and glow.
The music kicks off with a dreamy atmospheric piano part, but then turns into a more dynamic dubstep for the second segment. The reactions are usually mixed: some people prefer the first part of the demo but others prefer the second one. For our taste, the second part is a bit too long.
While the opinions on aesthetics are always subjective, from the more objective technical standpoint this demo is above medium complexity. Altogether, quite enjoyable and interesting.
First presented at TRSAC 2010, runs on Windows PC.
Electric Bullet by ASD vs Excess YouTube video
Download Electric Bullet by ASD vs Excess (zip). You will also need to instal Microsoft Visual C++ 2005 runtime, provided with the demo (vcredist_x86.exe).